How do I Switch Car Insurance Companies?
How do I switch car insurance companies? I just received my car insurance renewal and my rates went up by over $200 and I didn't have a claim or ticket. What's the easiest way to find and switch to a new company?
That's a common situation that many people find themselves in when they get their car insurance renewal. You try your hardest to be a good driver expressly so your car insurance won't go up, then it seems like your company sticks it to you a little more every time they bill you.
Switching car insurance companies is actually fairly easy to do. Obviously the price on your current renewal is not the same rate you'll pay with a different company. If you want to read more about what goes into the cost of car insurance, read our FAQ topic titled "How much will my car insurance be?".
When changing car insurance companies, you want to have your current policy handy. The declarations page will show you what your current coverages are, and you will want to initially use those same values to obtain comparison quotes from other companies. If you use different values on your quotes, you won't be able to accurately determine which company is offering the lower rate.
Click the image below for the first step in finding a new car insurance company.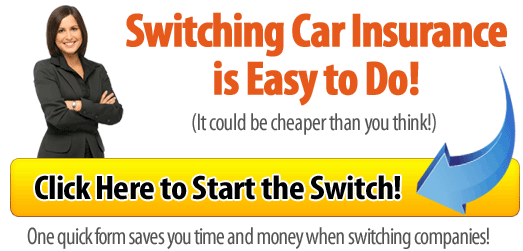 Quote Early, Quote Often
If you just received your renewal billing, chances are your policy is coming up for renewal shortly. You will want to get your comparison quotes completed as quickly as possible, as you don't want to hassle with obtaining a refund from your company after the policy has already renewed.
If your policy already renewed, most companies will prorate your premium, which means they will refund the cost of your policy from the day you cancel. But if your company charges a penalty for cancelling a policy that is in force, you will want to know that prior to your renewal date. It's just easier to cancel your old policy prior to the renewal date and use the same effective date on your comparison quotes.
Thanks to the internet, it's now very easy to do your own car insurance shopping from home. Unless you feel you need the advice of an insurance agent, online quoting takes the hassle out of switching to a new insurance company.
You are going to want to complete an online quote, which is what you will need your old policy declarations page for. You will simply enter the information into the form exactly as detailed on the 'dec' sheet. This information includes:
Year, make and model of your vehicles
Driver names, dates of birth, social security numbers and driver's license numbers
Any moving violations in the last three years (these may be obtained from your state department of motor vehicles)
Liability coverage limits - These are stated as either split limits such as 100/300/100 or a combined single limit (CSL) which is a single number.
Physical damage deductibles - If you have coverage for comprehensive or collision, your dec sheet will show a deductible amount such as $250, $500, $1,000 or other amount.
Rental reimbursement and/or towing - These may be listed separately or be part of a policy add-on coverage
Roadside assistance - This is an optional coverage that provides limited coverage for towing, gas or vehicle repair if your car breaks down.
Optional coverages - Companies have their own unique coverages that may be available that you may not be able to compare exactly with other companies. Usually these will not amount to more than a few dollars of premium.
When completing the quote form, it's very important to be as thorough as possible to get the most accurate rates. You might think you can sneak that speeding ticket past the rating system when doing a quote, but think otherwise. Your driving record will be automatically requested and any violations will be charged accordingly.
You might be thinking this is a lot of information to just through out there on the internet, but do not worry. Your information is always transmitted via a secure connection from your browser to the quoting system server.

Your social security number is used to determine your credit rating, which is taken into consideration when buying car insurance. If your credit score has improved since your old policy was purchased, you stand a good chance to lower your rates when you switch car insurance companies. Conversely, if you have had a bad run of credit luck in the last year, you may find it impacts your car insurance premium negatively.
Once you have completed your online quote, all you need to do is sit back and wait for your quote to be returned. Shopping for car insurance in this way is very efficient because your information is instantly shopped to many companies and the returned rates are usually very competitive. If your driving record shows some serious violations, some companies will automatically choose not to quote coverage, thereby allowing only the companies that insure high risk drivers to offer you a quote.
More Quotes Equals Better Comparisons
You can visit any number of online companies such as State Farm, Allstate, Progressive, Liberty Mutual, Farmers and GEICO and complete each of their quote forms independently if you choose. The quote form that we provide by clicking the image above will include some of those carriers automatically, so you will already be comparing the best companies based on your personal information.
If you followed our advice and kept your coverages nearly identical on all your quotes, you should have a pretty good feel for which company or two is going to be the best fit for you. Some quoted car insurance rates may be quite high and you can immediately reject those quotes. Your goal is to find the best rate so you can switch companies quickly before your renewal date.
Your Old Coverages May Not Be Adequate
Once you have found the lowest rate, you may want to call the company and discuss your coverages to make sure you are adequately protected. We highly recommend choosing liability limits that are higher than the state mandated amount that you are required by law to carry. Liability coverage protects YOU from being held liable for bodily injury and property damage, even though the payment is going to someone else.
If you do not carry high enough limits and are ruled liable for significant damages, you can pay for this for the rest of your life. Liability is cheap coverage, and the more you have the better your assets and future earning will be protected.
Physical damage coverage is optional and only protects your vehicle from damage from accidents, hail, fire, animals, etc. If you choose to insure your vehicle with comprehensive and/or collision coverage, you need to find the level of risk you are willing to shoulder by setting your deductible amount. This is the dollar amount that you are willing to pay before the insurance company pays any part of a claim. The higher your deductible, the lower the cost for coverage, but the more you'll have to pay out-of-pocket if you have a claim.
If you're comforable with your current policy limits, just not the price, then you do not need to adjust your coverages. If you do change your limits or coverages, especially adding physical damage coverage to a vehicle or changing deductibles, it would probably be worth your time to requote your coverages again with the other companies. You might find that a few changes in coverage result in a different company being the best one to switch to.
Don't Forget to Notify your Old Company When Switching
Once you have settled on your final company and have a competitive price quote, you can bind coverage by purchasing the policy. Just make sure the effective date of your new policy is the same day as the date you plan to cancel your old policy. You absolutely do not want a gap in coverage between policies.
You can notify your old company of your intent to cancel and they should refund any premium you have paid on the policy renewal. If you are going through an insurance agent for your new policy, they have a form that required your signature that they can send to your old company to cancel your old policy for you. If you are currently insured with an online company, you should be able to cancel through their website or through their toll free customer service number.
Once you receive your new policy, replace your old proof of insurance cards with the new cards in your vehicle. These are required to be current if you are licensing a vehicle or if requested by a police officer at a traffic stop.
Quote Again at Renewal
The new policy term may be three months, six months or even a year in length, and car insurance rates are constantly changing. It's a good idea to just automatically shop for lower rates at each policy renewal. You may find that a company that had high rates last year is now offering very competitive rates to consumers with your driving profile. It only takes a few minutes to get a quote, and it could end up saving you substantially each time you renew your policy.
Switching car insurance companies is not difficult if you take the time to shop around. If you make it a routine process every six months to a year, you'll find it is well worth your time. If you haven't started your comparison quote yet, simply click the image below to start finding a new car insurance company.

More car insurance information
Readers of How do I Switch Car Insurance Companies? also found answers to the following car insurance questions.
How high should my car insurance deductibles be?
Does my car insurance cover car pooling?
I broke off my side mirror backing out of my garage
Rock chip repair, new windshields and car insurance deductibles
How do I find cheap Ford F-150 insurance rates?
Can I save on teen driver car insurance with liability only?