When Should I Drop Full Coverage on an Older Vehicle on my Car Insurance?
When should I drop full coverage on an older vehicle on my car insurance? I have an older car on my policy and was wondering when I should drop the physical damage coverage from my car insurance. Is there a guideline to go by?
You'll find non-specific guidelines about when to drop full coverage that might state something like when your car's value is less that ten times the cost of the coverage.
But in reality, there is no steadfast rule as to when you should drop the comprehensive and/or collision coverages. It's really a personal preference based on your risk tolerance and a few other factors.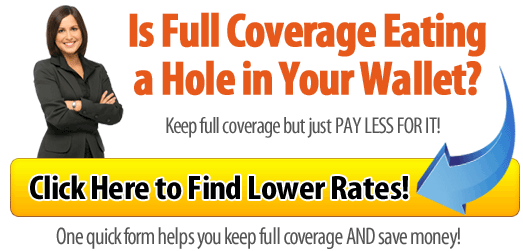 If you still owe money on the vehicle to a bank or leasing company, then you will probably be required to maintain full coverage. This insures that if your car is damaged or destroyed in an accident, the financial institution can get the money you owe them for the car.
If your car is paid off, then that brings up another point to consider. What is the value of the vehicle?
If the car is only worth $1,500, you may ask yourself what you would do if the vehicle is damaged in an accident. Would you repair it? Or would you just continue driving it with the big dent in the fender?
If you have no intention of fixing the damage, then you would be better off dropping full coverage and pocketing the savings.
But if the value of the car is still substantial enough that you would fix it to maintain a resale value, then that may steer you towards keeping full coverage. You'll want to look at your comprehensive and collision deductibles and see if you can save money by raising them. Higher deductibles cost less, so maybe it's time to take the $250 deductible up to $1,000.
You can also keep comprehensive coverage and drop collision coverage. Comprehensive coverage protects you from loss in the event of a hail storm, a tree falling on your car and other unpredictable events. You may be willing to drop collision coverage if you haven't had any claims in the past and feel comfortable not having this coverage.
The next thing to consider is the cost of full coverage compared to the value of the vehicle. If full coverage is costing you $300 every six months you would save $600 a year and over the course of a few years you would save enough to pay for substantial repairs out-of-pocket if you drop full coverage. Obviously if your car is totalled you're out the full value, but you will still have a nice savings to rely on to purchase a different car as long as you don't spend the savings on other expenses.
The main reason most people keep full coverage on their vehicles is for the peace of mind that it brings. Knowing you will be financially compensated if your car is damaged allows you to not worry so much about maintaining a cash reserve to replace a vehicle. If driving without full coverage makes you a little nervous, then you probably are better off keeping it in place. Making sure you're comfortable with your coverage is the most important thing to consider when deciding when to drop full coverage.
You can always discuss when to drop full coverage with your agent or your car insurance company. They may give you different scenarios using higher deductibles that may still provide you with protection, but save you some money as well. You may also be able to insure your vehicles with the same coverages you have now, just at a lower cost with another company.
If you haven't compared rates in awhile, it may be worth the time to complete a quote and just see if the rates you're currently paying are competitive. You may be able to cut a few hundred dollars off your car insurance bill each year while enjoying the protection full coverage gives you.
Click here to compare rates now!
More car insurance information
Readers of When Should I Drop Full Coverage on an Older Vehicle on my Car Insurance? also found answers to the following car insurance questions.
How high should my car insurance deductibles be?
Gap Coverage Car Insurance for Financed or Leased Vehicles
Does car insurance cover theft of my personal belongings from my car?
What does car insurance cover?
When Should I Drop Full Coverage on an Older Vehicle on my Car Insurance?
Are car insurance rates higher depending on where I live?